The synagogue on Hill Street was built to accommodate a congregation previously based in George Street in Glasgow.
The congregation had been steadily growing throughout the 1870s and the minutes of Glasgow Hebrew Congregation first noted, in 1871, that the existing synagogue on George Street was no longer large enough to accommodate all worshippers on the High Holy Days – an observation repeated after a seat-letting meeting in 1873.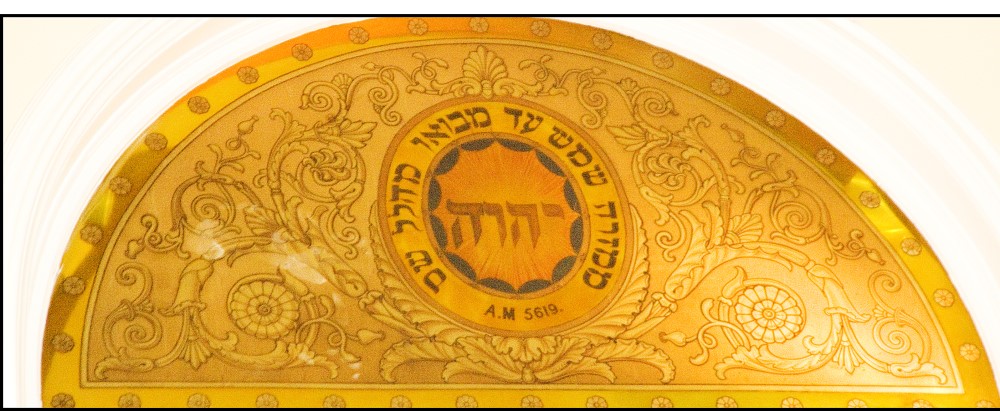 Window from the George Street Synagogue (1858-1879), which was removed to the new Garnethill Synagogue and can now be seen in the upstairs gallery.
In response, it was resolved unanimously at a Special General Meeting on 17th October 1875 that:
"In view of the recent and rapid increase of the Hebrew Community in Glasgow and the consequent present inadequate synagogue accommodation, this meeting resolves that  the providing of a new and suitable place of worship has become a necessity and that the erection of such a synagogue with schools attached is an imperative duty, deserving the utmost support of the entire community."
Glasgow Hebrew Congregation Minutes – 17th October 1875
"Mr Emmanuel Cohen proposed and Mr D. Heilbron seconded: That with the object of carrying out the purpose of the foregoing resolution a committee of members and seatholders of the Congregation be appointed to superintend the collection of subscriptions which subscriptions may if required be payable in quarterly instalments from the 18th Oct. 1875 over a period of not more than three years.
Carried unanimously.
Mr B. Simons proposed and Mr M Michael seconded: That monies so raised shall pending the disposition of the Congregation be vested in the hands of the Congregational Trustees.
Carried unanimously.
Mr S. Morris proposed and Mr M.J. Cohen seconded: that three members be nominated to report to the Congregation concerning the most eligible attainable sites for the erection of the Contemplated new synagogue. Carried unanimously."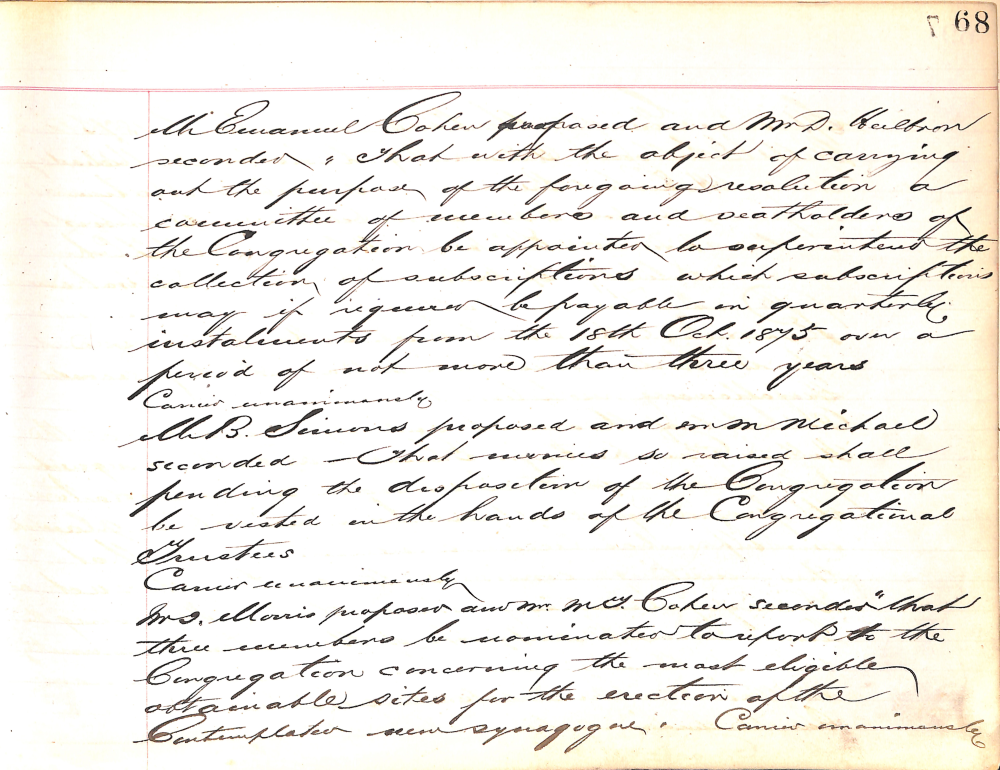 Text of the original minutes, transcription on the left
The congregation wasted no time in taking the next steps. By the end of the month a Subscriptions Committee had been appointed to coordinate raising funds for the new building.
A Sites Committee was tasked with looking for a suitable plot of land. In the absence of available ground in the city close to the existing synagogue building, the committee looked further west, to a site at the junction of Hill Street and Thistle Street (later Garnet Street).
The Register of Sassines for 30th May 1878 shows that the land and buildings on it were acquired by:
"Benjamin Simons, Fruit Broker in Glasgow, Michael Simons, Fruit Broker there, Samuel Morris, Commission Merchant there, Julius Frankenburg, Manufacturer there and Samuel Levenston, Physician there…as Trustees for behalf of the said Congregation…
… that area or piece of ground situated at the south west corner of Hill Street and Thistle Street, Garnethill in the Barony Parish of Glasgow and County of Lanark, consisting of two thousand and ninety-nine yards and twelve thirty-sixth parts of a square yard…"
Although this added around a mile to the walk for those members of the community who lived to the south and east of George Street, it was a short distance from the houses of several prominent and wealthy members of the congregation, including Benjamin and Michael Simons and Julius Frankenburgh, allowing them to walk to synagogue on the Sabbath.  This location would provide a home for the Glasgow Hebrew Congregation close to the civic and cultural centre of Glasgow and to the new University buildings in the leafy West End.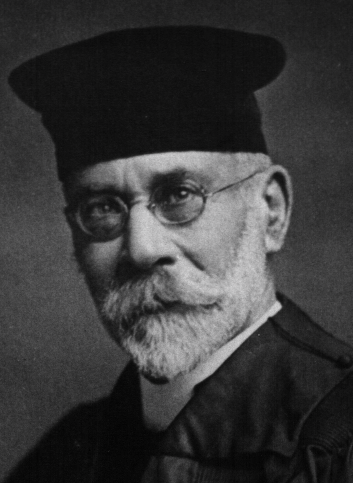 Rev. E.P. Phillips
Rev. Phillips came from Adelaide, Australia and was appointed aged about 24 as minister of the congregation, which he served from 1878-1929. He was also involved with a number of religious, welfare and cultural organisations in the Gorbals. In the 1881 census, he is listed as living at 405 Sauchiehall Street.
Rev. Isaac Levine
An immigrant from Russian Poland, Rev. Levine was another youthful leader of the congregation, appointed in 1875, when he was about 23, and serving as Reader until 1921.  The Post Office Directory for Glasgow in 1879 shows Isaac and Deba Levine and their family were living at 29 Buccleuch Street.
Samuel Morris
Samuel Morris from Danzig ran a successful business with his brother Isidor. They were agents for esparto grass, used in paper production.  A great philanthropist, from 1879-1895 he was president of the congregation. In 1879, Samuel and Augusta Morris were living at 3 Sandyford Place.
David Heilbron
David Heilbron, from Breda in the Netherlands, came to Glasgow around 1870 and was a leading member of the congregation, also involved in the Hebrew Philanthropic Society. The Post Office Directory shows that in 1879, he was a 'wine merchant and importer of cigars, manufacturer of cordials and Dutch and orange bitters,' in Elmbank Lane. David and his wife Fanny lived at 26 India Street.
Julius & Phoebe Frankenburgh
Julius Frankenburgh, from Poland, was Junior Warden 1875-1895 and succeeded Samuel Morris as president of the congregation, while his wife Phoebe was at one time president of the Hebrew Ladies' Benevolent Fund.  The Post Office Directory for Glasgow in 1879 lists the Frankenburgh business: Fancy leather bag and legging manufacturer, 18 Montrose Street. The Frankenburghs were living at 7 Hampton Court Terrace, 224 Renfrew Street.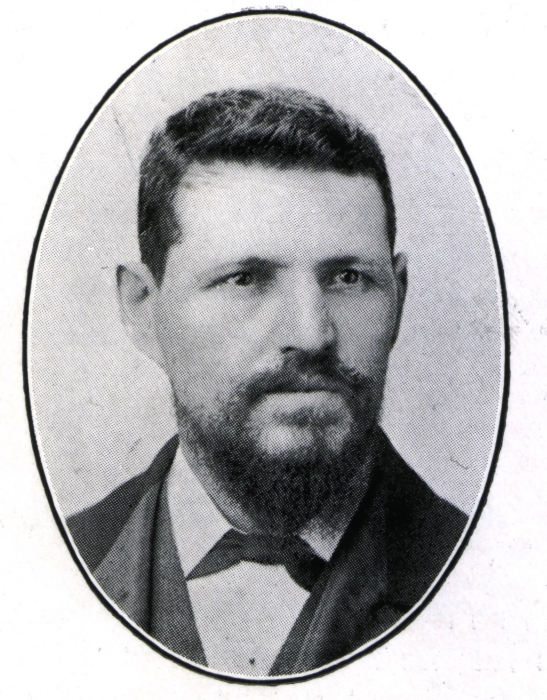 Abraham Goodman
The 1881 census shows Abraham and Leah Goodman and family living at 29 Thistle Street (now Garnet Street).  Abraham and Leah were immigrants from Kovno in Lithuania. He was the beadle of the Synagogue and presumably they were living in the basement flat.  Abraham served the congregation for 22 years as beadle, collector, shochet, mohel, teacher, reader and assistant secretary.
The Wolffe Brothers
David, Samuel and Bernhard Wolffe came from Prussia to Glasgow and were jewellers and watch manufacturers at 75 Buchanan Street. David Wolffe was a member of the Building Committee in 1879, and later became one of the leading Glasgow Zionists and a founder of the Chovevei Zion group in the city. David and Augusta Wolffe lived at 39 Lansdowne Crescent.
Solomon Levy Abrahams
Solomon Levy Abrahams from Plotzk in Poland was involved in the Building Fund for the synagogue. He was a foreign money exchanger at 52 Broomielaw, though later had a furniture business in Duntocher. Solomon and Anne Levy Abrahams lived at 320 St. Vincent Street.
Benjamin Simons
Benjamin Simons came to Glasgow from London and ran a flourishing wholesale fruit business. The Post Office Directory for Glasgow in 1879 lists Benjamin Simons & Co., wholesale fruit merchants, at 24 and 26 Cannon Street. In addition, Simons, Jacobs & Co., commission agents and fruit brokers, were at 219 and 227 George Street and 33 Montrose Street.  Benjamin was chairman of the Building Committee and laid the foundation stone of the synagogue in 1877. Benjamin and Hannah Simons and their family lived at 201 Bath Street.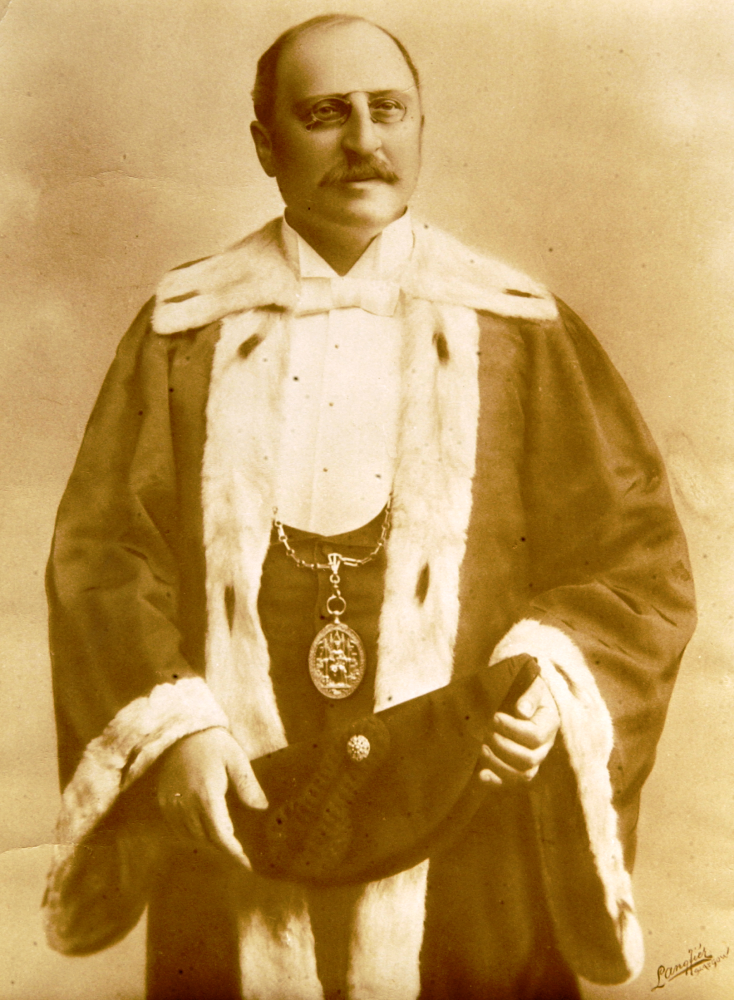 Michael Simons
Born in London, Michael Simons was brought to Glasgow by his parents, Benjamin and Hannah, and worked in the family fruit brokerage. He went on to become a Glasgow Councillor and Bailie and was a great patron of the arts, involved in the Glasgow Exhibitions of 1890 and 1901 and founder (with David Heilbron) of Howard & Wyndham Theatre Company. For 25 years, he was Hon. Secretary of the congregation and the founder of Lodge Montefiore in 1888. The Post Office Directory for Glasgow in 1879 shows that Michael and Charlotte Simons lived in Adelaide Place, 206 Bath Street – beside his parents.
Former Simons warehouse, 110 Brunswick Street in Glasgow, with monographs for Benjamin and Michael Simons.
In the late 19th century, there was an extended family of Jewish photographers, connected to Garnethill Hebrew Congregation:
Benjamin Wohlgemuth
Benjamin Wohlgemuth (around 1844-1912) was the son of a rabbi from Memel, East Prussia.  He was a leading member of Garnethill Hebrew Congregation and later involved in the Talmud Torah, Chovevei Zion. In 1879, he had a studio – Berlin Photographic Rooms – at 202 Hope Street, where he and wife Tirza also lived with their family.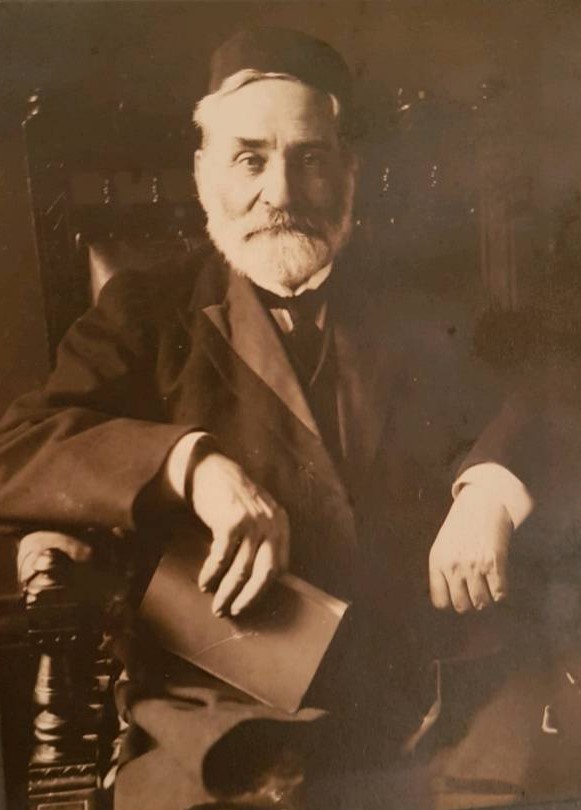 Jechiel Sternstein
Jechiel Sternstein (1849-1928), Benjamin Wohlgemuth's brother in law, was born in Wirballen, Prussia. He came to Glasgow and set up a photography business in the 1880s at 384 St. George's Rd, later in partnership with his son, Sigmund Sternstein (1895-1956) – they were mainly school photographers.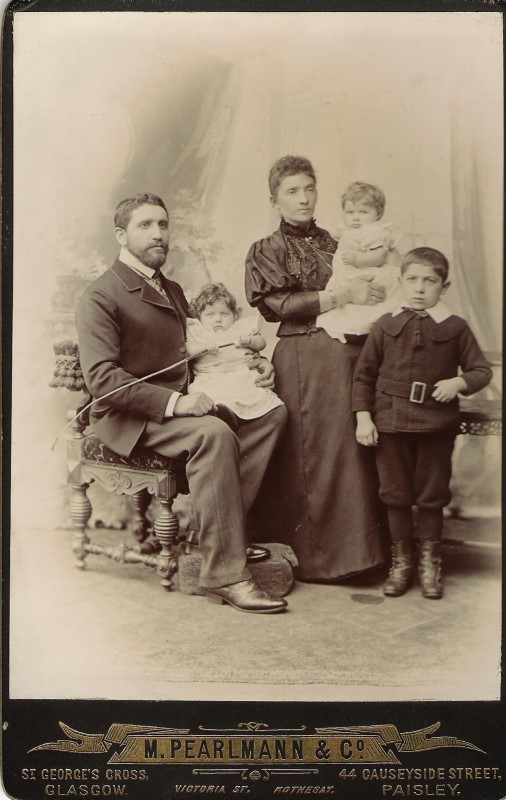 Maurice Pearlmann
Maurice Pearlmann came to Scotland from Memel in Prussia and married Benjamin Wohlgemuth's niece, also from Memel. He died in 1911. The 1891 census lists him at 231 New City Road and also at one point at St George's Cross.
All images on this page are in copyright, and appear courtesy of the Scottish Jewish Archives Centre unless stated otherwise. Images should not be reproduced without permission.