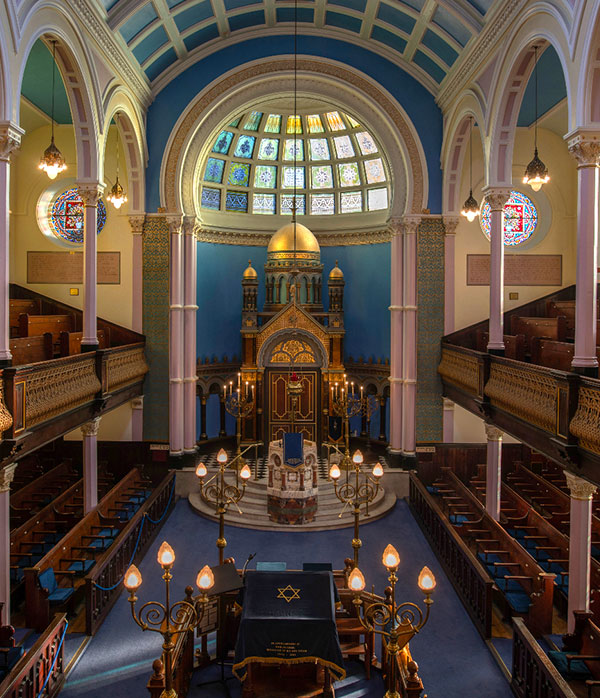 Join our guided tours
To visit Garnethill Synagogue and the Scottish Jewish Heritage Centre, join one of our guided tours. You will find out about aspects of Jewish religious practice and way of life, and learn how the Jewish community have contributed to Scotland over the last 200 years. During the tour, you will find out how the first Jewish congregation in Garnethill made an impact on the development of Victorian Glasgow, and how people in Scotland helped Jews find safety from Nazi-occupied Europe in the 1930s and 1940s.
The tours include the Synagogue Prayer Hall and take in the displays throughout the building:
Glasgow's Jewish roots and the building of Garnethill Synagogue.
A New Life in Scotland – A permanent exhibition on the Jewish immigrants settling in Scotland, from the late 1700s through to the present day communities.
Scotland a Sanctuary – Exhibition in the Succah on the refugees who arrived in Scotland in the 1930s and 1940s, and how people from all backgrounds helped those in peril.
A new and very handsome Synagogue – A special exhibition on the development of Garnethill Synagogue. Find out about the lives of congregation members at the time.
We have a shop on site, with a selection of books relating to Jews in Scotland and Jewish history, plus other related items. We can take payment by cash and card.
Availability & Cost
The cost is £7 per visitor (children aged 5 and under are free), with up to 12 visitors at a time. Each session will last around 1.5 hours and tours usually run twice weekly, on a Tuesday and Thursday, with the exception of holidays. During the winter season (November to February), there is one tour per week.
Accessibility
The tour covers the ground floor and lower ground floor of the building. For information on accessibility within the building, please see Plan your Visit or email info@sjhc.org.uk if you have any questions.
Arriving for your Tour
Please come to the side entrance of the building at 29 Garnet Street, where the tour will begin, not the main Synagogue entrance on Hill Street. Please do not visit if you or any members of your household, have any symptoms of Covid-19. We do not send out physical tickets but will have your details once you have booked.
Please note that as Garnethill is an Orthodox Synagogue, no food or drink should be brought into the building. Bottled water is permitted. There is a lockable store for coats and bags available. Photography is permitted during a tour.
We require all visitors over 18 years old to show photo ID on arrival.
Tour Entrance
Visitor Feedback
"This was a very interesting and welcoming tour. We learnt a lot about the history of the Jews in Glasgow of itself and as part of the broader history of immigration to the city. It was lovely to see the magnificent synagogue building. A lot of thought had been put into the design of the timeline and wall map, these were very informative.
The tour guides were friendly and knew such a lot about the place, its people and history, they went out of their way to encourage conversation and questions. Thank you."
"Excellent combination of guides' personal experience and more general info. Having two guides was good as it gave the opportunity to get different info from each. Also liked the small group size and the chance to ask questions.
Very good experience that I would recommend to others interested in history, architecture, culture and religion."
"Our guides were extremely knowledgeable as well as patient in answering my many questions! We could have spent much longer with them. It was an honour and privilege to visit the Synagogue and hear the story of the Jewish community in Scotland."
Tour Cancellation and Rescheduling Policy
We can refund tours which are cancelled more than 48 hours before the scheduled tour start time. We can reschedule tour bookings that are requested more than 24 hours before the scheduled tour start time.
Tours include:
Synagogue Prayer Hall, and displays on Scottish Jewish history and heritage
Book tour date
Please select date and then click on the available time slot.