On the 27th April, the Scottish Jewish Heritage Centre was visited by John Lamont, MP and Parliamentary Under Secretary of State for Scotland.
The Minister was shown around the Synagogue and Heritage Centre by Manager Kerry Patterson and by two members of the Board, Liz Cameron and Deborah Haase. Liz Cameron is Vice-Chair of the Board and former Lord Provost of Glasgow, in addition to being a volunteer guide on the weekday guiding service. Deborah Haase is Honorary Curator of the Scottish Jewish Archives Centre and trustee on the Heritage Centre Board.
Beginning in the historic synagogue, the group discussed the roots of Scotland's Jewish communities before visiting the Scottish Holocaust-era Study Centre and displays. Here, the Minister was shown one of the Learning Kits – about Dorrith Sim – used by school groups who visit to learn about the stories of Jewish refugees from Nazi-occupied Europe.
UK Government Minister for Scotland John Lamont said:
"For the past 200 years the Jewish community has made a significant contribution to life in Scotland and it was a real privilege to hear more about this while exploring the Scottish Jewish Heritage Centre. Established in 2021, in part through funds from the UK Government-backed Community Security Trust, visitors to Glasgow's wonderful Category A-listed Garnethill Synagogue can learn about the history and culture of Scottish Jewry, including how Scotland responded to events in Nazi Germany and took in a number of refugees.
The UK Government is committed to supporting Jewish communities so they can live and worship safely. I thank those involved in the only Jewish Heritage Centre in Scotland and urge as many people as possible to visit – and make a donation if able – to support this vital project."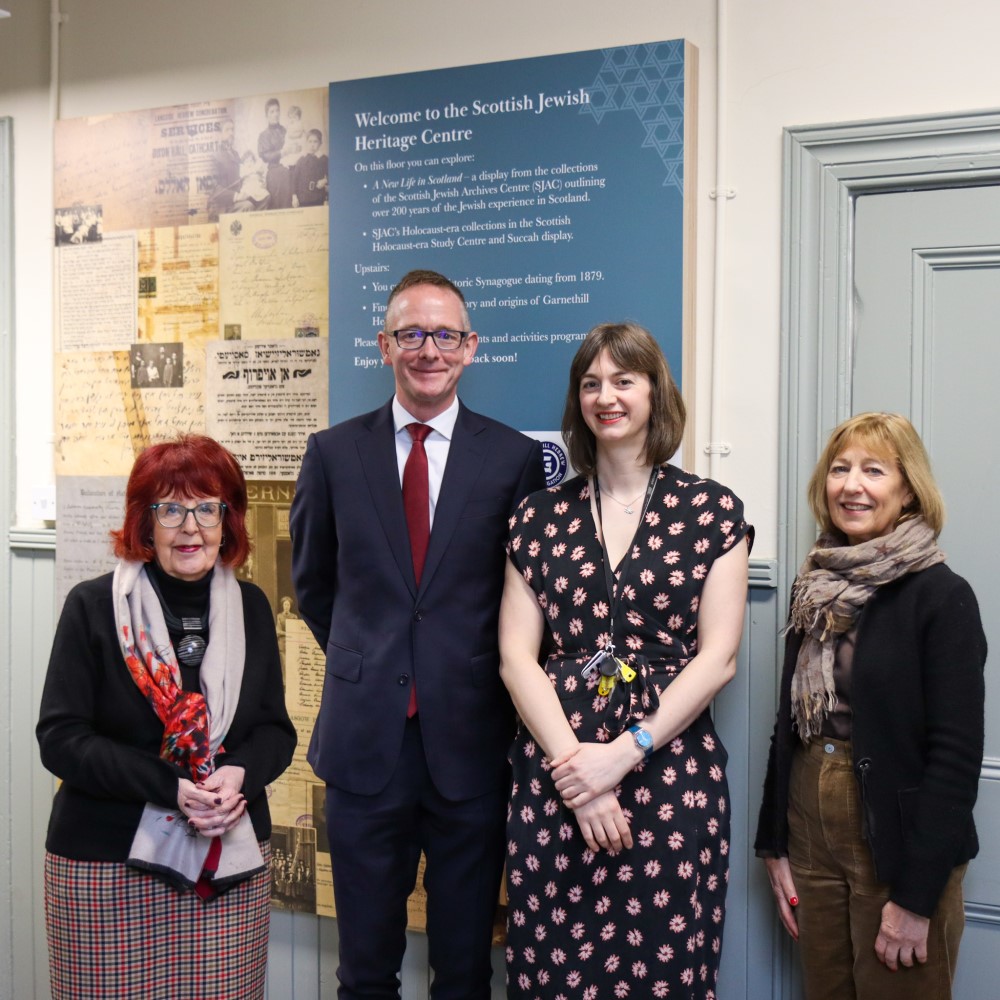 (L-R) Liz Cameron (Vice chair of SJHC Board), John Lamont, Kerry Patterson (SJHC Manager), Deborah Haase (SJHC Trustee)